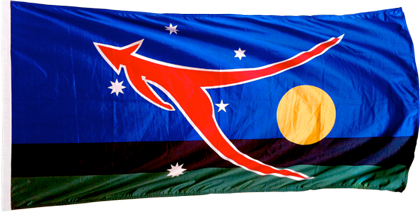 Poem of the Flag.

Bob King Crawford.
The Big Red.
The Golden Wattle Gleams as the sun,
The Big Red flies as you do,
Styarts of history from the southern Cross,
And sparkles as if new,
Knowledge forever under the arm,
Forms a quill to study quietly,
As does a black band of Anzac respect,
And our aura can't be taken lightly.
Each star point has a story,
As do part of the Big Red,
And the three arrows fly upwards,
An Aussie Flag, Aussie Bred,
A flag who tells you who we are,
And who we're going to be,
With scores or 60 thousand years,
Dreamtime, Dreamlans, and sea.
Come fly,
Come fly,
Come fly,
Come fly with me.