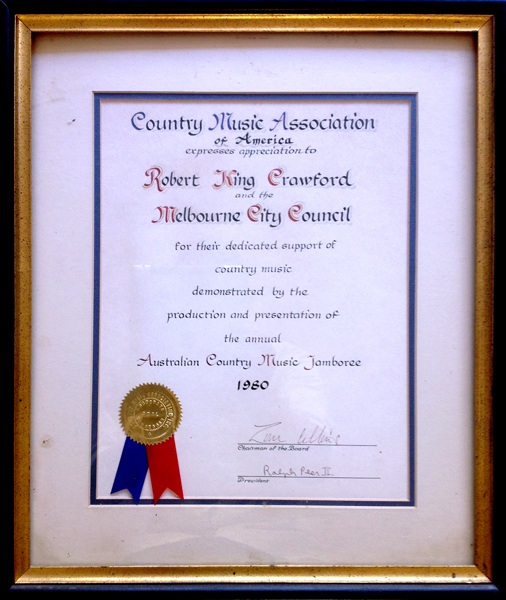 Designed the world's first art album cover 'Hillbilly Classics'.
Produces the first Australian Modern Sounds of country with 'Trailblazers Stage Show and incidentally Australia's first twelve inch country album.
Presents the Hawlking Brothers at the Melbourne Cup before the race singing their hit 'The Melbourne Cup' and he is featured personally on their best selling album,' Riding High' for RCA.
Produces annually one of the three biggest Country Carnivals of music and the country.
Composes, writes and produces 'Lady In Blue'. The world's first 'Country Music Gospel Opera'.
5 Productions at the Bowl.
Produced 'Sweeter Than The Flowers' for Rodeo Records making Reg Lindsay an overnight star.
Receives a plaque from Country Music Association of America.
With Marcus Surman established Homestead records.
Produces 'The History Of Country Music' at the Sydney Myer zMusic Bowl and Hayride entrance of the stars.
Crawford's records another voice history this time for the Australian Bush Ballandeers Association.